Everyone knows that long ago the era of technology has already begun. And all these technologies influence each area of human life. Education is no excep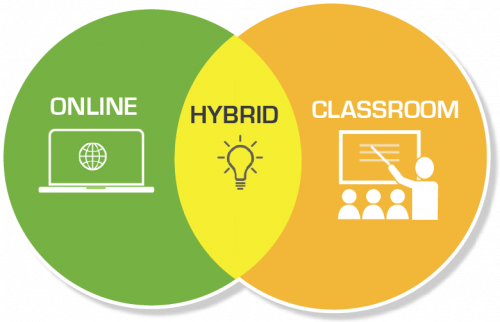 tion. New forms of learning are being used worldwide, and they have already proven their efficiency.
Hybrid learning is one of the most modern models of study process. It combines classical/frontal teaching and digital learning. To make it simple, some lectures are held, as usual, in a classroom, but the majority of classes are digital – it can be either a video-lesson or an online test that can be attended from anywhere. Thus, a combination of two models is also a way to take the best of both of them and to eliminate the gaps of one model by using the elements of the other models. Therefore, hybrid learning has a lot of benefits, and some of them are:
Flexibility: students have the possibility to choose the place and time for learning. In this way, they can find the most appropriate environment which facilitates learning;
Adjustment to students' needs: there are fast and slow learners, and both kinds will not need to comply to the rhythm of a lecture anymore (or at least not always) – digital content allows skipping the information which you already know, repeating the content which is not yet clear enough (e.g. re-watching the videos of online-lectures), etc.;
Keeping personal contact with the teaching staff: it is not just e-learning, so students are still in touch with their tutors and can always get a feedback or piece of advice;
and so on.